Easiest way to migrate from Tumblr to WordPress
Tumblr indeed a great platform for microblogging. But once in your blogging life, you would obviously want to scale up. And that time Tumblr is not something you should stick with. So just in case if you are wondering how to migrate from Tumblr to WordPress. Then you better stick with this page.
As you read further in this article, we will explain complete steps to you. So you can easily migrate your website from Tumblr to WordPress without any hassle. Anyway, let's just head into the topic without wasting much of the time:
The easiest way to migrate from Tumblr to WordPress:
Step 1: First of all you need to purchase a web hosting plan and a domain name if you haven't already. However, it is quite an easy job to buy a domain name. But when it comes to purchasing hosting. There are quite a lot of things that you need to keep in your mind.
At first, you need to make sure that the web hosting plan has sufficient space for your website. It has less downtime as well as it comes with sufficient bandwidth. You may also need personal email accounts. So do check everything out, before placing an order.
Step 2: Once you are done purchasing both of the things. The next thing that you need to do is set everything up.
Start with changing the nameservers on your domain. Then go to your web hosting plan and login to the cpanel. From the cpanel, you have to find the WordPress option, and from there you have to install it.
Installing WordPress is no big deal. You simply enter the name of your website, then a tagline. After that, you need to set up a username and password. Once everything is done, just click on the install button and you are good to go.
Step 3: After that from your WordPress dashboard, you need to go to the tools option and then import. Now over here you will find quite a lot of importing options for different platforms. However, you have to look for the Tumblr.
Once you found the Tumblr simply click on the install now button. This will help you to import files from your Tumblr blog.
Step 4: Once the installation process gets completed, you will find the Run Importer option. So simply click on that.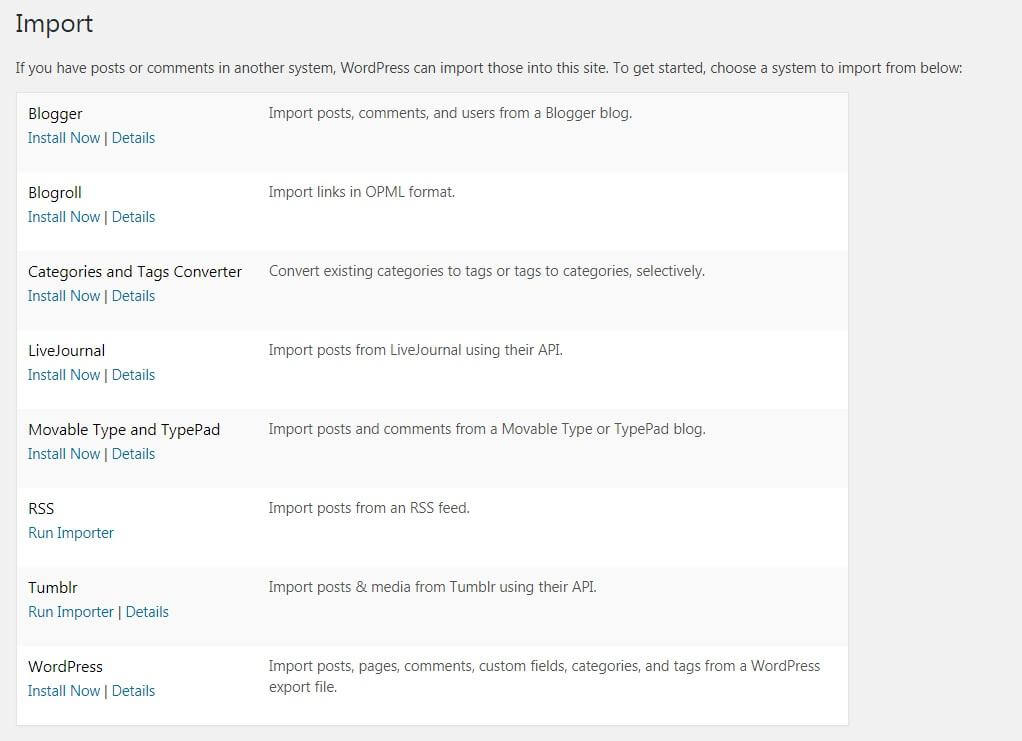 However, before you start importing your Tumblr blog. You need to create a Tumblr app which will work as a connection point between both of the platforms. So when you click on the Run Importer option, you will get to see this following URL: http://www.tumblr.com/oauth/apps.
Step 5: Then on the next web page, you have to create a Tumblr application. To do this, you have to click on the big green button that says "Register application".
Step 6: Now to register a Tumble application. You will need some details. These details include:
Application Name
Application Website
Default Callback URL
Application Description
Administrative contact email
Apart from these fields, there also a couple of other fields are there. But it is up to you whether you would like to fill them or not.
Step 7: Now come back to the WordPress Page and over here you have to fill OAuth Consumer Key and the Secret Key.
Once you are done filling both of the details, simply hit the connect to Tumblr button and you are done.
Step 8: At the next screen you have to click on the "Authorize the Application" option.
Step 9: Once you do so, you will get redirected to the Tumblr. Now over here you will be asked if it is okay if the application accesses your data and make posts to your account or not. Simply allow the permission.
Step 10: In the end, on your WordPress dashboard you will get to see the Tumblr posts associated with your username and email address. Now check everything and click on the import blog button. Also let us mention that from this step, you will be able to assign a different author for the blog posts.
However, importing the blog posts may take a while. Depending on how large your Tumblr website is. Also, the importing process happens in the background. So you can return to the import Tumblr page from time to time to see how many posts are imported.
Also once the whole process is done, you can simply erase your Tumblr details. Simply click on the Clear Account Information button.
Once the import process is done, the posts will appear in the posts section. From here you can also edit the posts and set up images and so on.
Apart from these steps. There is also one more method that you can follow to migrate from Tumblr to WordPress easily. Anway, let's just talk about it:
Method 2: Tumblr to WordPress migration plugin:
There is a plugin called Tumblr to WordPress migration plugin. It is a premium yet a free plugin which you can use to migrate your Tumblr website to WordPress in the easiest way. The app lets you do the migration free of cost. However for some features you may need to pay. Anway, here are all the steps that you need to follow to migrate from Tumblr to WordPress:
Step 1: Login to your WordPress dashboard.
Step 2: Then go to the plugins page and click on the Add New button.
Step 3: From here you have to search for the Tumblr to WordPress migration plugin. Then simply install and activate the plugin.
Step 4: Then from the plugins option go to the Tumblr to WordPress option.
Step 5: After that create a new account.
Step 6: In the end, simply connect your Tumblr account and follow all the steps to get done with the migration.
Final Words:
So those were the ways to migrate from Tumblr to WordPress. However, if you ask us what the best method between these two is?
Then we would suggest you to go with the second one. As it is more reliable and you do not have to pay for it. Anyway, if you have any more questions, feel free to leave a comment below.