How much disc usage does your WordPress really need
There are quite a lot of beginners who want to start a website using WordPress. And the most common question that they have is How much disc usage does WordPress really need?
As there are quite a lot of web hosting companies which are offering different web hosting plans. Some web hosting companies are offering unlimited web space and asking for a high price. There are thousands of reasons why to use the WordPress for your website or business, but you should know how much resources your WordPress needs.
Hence it is quite reasonable to have this question. However, if you are wondering that How much disc usage does your WordPress need? Well, then we are here to help you out.
In this article, we will give you a complete idea on the disk space that you need to start your WordPress website and store files on it. So let's just head into the topic without wasting much of the time:
How much disc usage does your WordPress really need:
Well, it entirely depends on your needs, your future goals and what type of website you are planning to create. However, if we talk about an average WordPress installation size, well then there is no specific answer to this question.
As each WordPress website comes with a different theme, a different number of plugins, a different size of the database and other files. However, on an average, we have found that the average WordPress core eats up to the 8.9 MB or a bit more disk space. The Average plugins directory would eat up around 100 MB or less, depending on how many plugins you decide to install.
The Average theme directory would take as low as 25 MB of disk space, and it could go up to 100MB. Again it depends on the theme size. The average MySQL database would eat more than 85 MB of the disk space. In the end, the Average uploads directory can contain 200 MB or more. As it depends on the website usage.
The bottom line of the story is it depends on what type of website are you going to create. If you are going to create a business website, then for average 1GB of disk space will do the job. Or if you want to make a small micro niche blog with a lightweight theme and a few plugins. Then 1GB disk space is sufficient for making your website run smoothly.
However, if you are going to make a website as big as Digital Trends, Tech Crunch or any other website. Then you will need a vast space. However, on an average staring 5GB of disk space will do the job. In addition to that, you will also need other services like a CDN and so on.
But you should also be aware of the fact that no one creates a website for a limited time. Most of us have a long term plan with a website. Hence going future proof is also a better idea. That is why we would suggest you go with a website that has at least 2GB of space.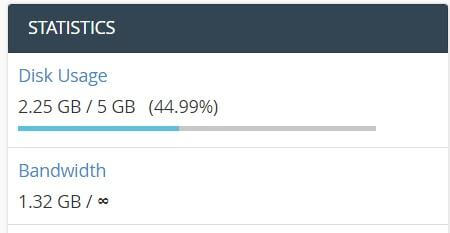 This way, your website will be kind of future proof. As well as you do not need to worry about running out of space. On the other hand, you do not have to upgrade your plan again and again or switch web hosting services.
However, to give you a better understanding, let us give you an overall idea about purchasing a web hosting plan.
How to buy a WordPress Website Web Hosting Plan:
Disk Space:
Coming to this point again, Well as we have just mentioned that a web hosting plan should have 2GB of disk space. So go with a plan that offers you at least 2GB of space if, you do not plan to make a big website.
But if you are going to create a big website. Then go for a website that has at least 5GB of space. Also, we would like to suggest you to not to go for unlimited web hosting plans. As there is no unlimited thing, web hosting providers always limit your usage. So you can not rely on an unlimited web hosting plan in the long run.
Bandwidth:
Bandwidth is something that you choose really carefully. As it plays an important role when it comes to web hosting plans.
In simple words, bandwidth stands for a given band for your traffic. For example, if you have 2GB monthly bandwidth for your web hosting plan and you are getting huge traffic which is eating up your bandwidth. Then your website will go down or act slow. If you want to increase your traffic then you must look over our article about increasing the traffic from Google !
This is something you simply do not want your website to face. Hence it is always better to go with a web hosting plan that offers you unlimited web hosting. Because you never know, how much traffic you are going to get in the future. So you better always get prepared for you.
Even you can compromise on your disk space, but when it comes to bandwidth. There is no point in compromising.
Other Factors:
Apart from disk space and bandwidth, the other things that you should consider are the servers specification. As it plays an important role in web hosting performance. If you would like to decrease CPU usage, then I would suggest you use the WP Rocket for optimizing the Website.
You should check how much RAM the server has, what is the CPU? And do check other things. However, a server with 2GB of RAM is kind of does the job. But if you are going to create a big website, then you will need better.
Final Words:
In the end in the answer of your How much disc usage does your WordPress really need we would say that at first decide what you want to do.
If you are going to create a micro niche website with a few plugins and a theme. Then 1GB of space will do the job, but bigger is always better. So decide what you would want to do and then choose the best web hosting possible.
Anway, if you have any more questions, then do feel free to leave a comment below and we will surely help you out. If you do not love WordPress, then we have the better solution where you can shift from WordPress to other popular cms easily and avoid using WordPress.