Joomla VS WordPress which one is best choice
Whenever it comes to making a website, there are quite a lot of CMS or content management system options are available. However, if we talk about the popular ones, it is undoubtedly the Joomla and WordPress.
Both of these CMS applications are open source, and most of the web hosting providers offer it along with their web hosting plans. However, the question is Joomla VS WordPress which one is the best choice?
Well if you have this question in your head. Then let us answer it for you.
Joomla or WordPress which one is the best choice:
Well on the internet more than 23% of the websites run on the WordPress.You can even be your own boss with WordPress. But apart from these, there are also quite a lot of options are available. Such as Ghost CMS, Drupal, Joomla and so on. But if we talk about the most popular open source applications, then it is undoubtedly the WordPress and Joomla.
Furthermore, both of these CMS applications offers quite a lot of same features. Such as availability of themes, easy to use interface, plugins, and extensions and so on. However to give you a better understanding let's talk about the similarities of both of the open source platforms one by one.
Easy to use interface:
Back in the days, creating websites trend was limited only to the web developers, designers, and programmers. But now, it is not.
A person without any coding knowledge can set up a website in minutes. But the question is how easy it is to do so with CMSs like WordPress and Joomla? Well let us answer this question:
WordPress:
The best thing about WordPress is that it offers five minute install. That means you can make your website up and live in just 5 minutes.
Even there are so many WordPress webs hosting providers who offer one click install of WordPress. All you have to do is run the installer, fill up the websites details and you are done. As well as the process of installing WordPress is far better than installing Joomla.
Joomla:
Talking about Joomla, well the installation process may not seem as straightforward as installing WordPress. But we have to admit that it also comes with a very easy installation step. In addition to that, almost all the shared web hosting providers offer one click Joomla installation.
Although the Joomla dashboard is not beginners friendly. It has way too many options and settings which you need to follow to setup your website. However, the fact is Joomla is more powerful than WordPress.
But do you need a powerful CMS to set up a blog or a simple website? Well, the answer is a big NO.
Themes and Plugins:
Coming to the Themes section. All both of the CMS platform offers themes and plugins. So let's just talk about it:
WordPress:
Talking about WordPress, well it allows the users to change the look of a website by selecting a theme. Even the wordpess comes a with a few themes pre installed.

Also, there are quite a lot of free themes are available for different types of websites on WordPress.org. Also, you can buy premium themes.
If we talk about the WordPress plugins, well then let us mention that there are more than 38,000 WordPress plugins are available free of cost. In addition to that, you can also buy premium.
Joomla:
Coming to Joomla, it also has lots of templates and extensions. Joomla has quite a lot of extensions which can help you to set up an eCommerce website or managing email websites easily.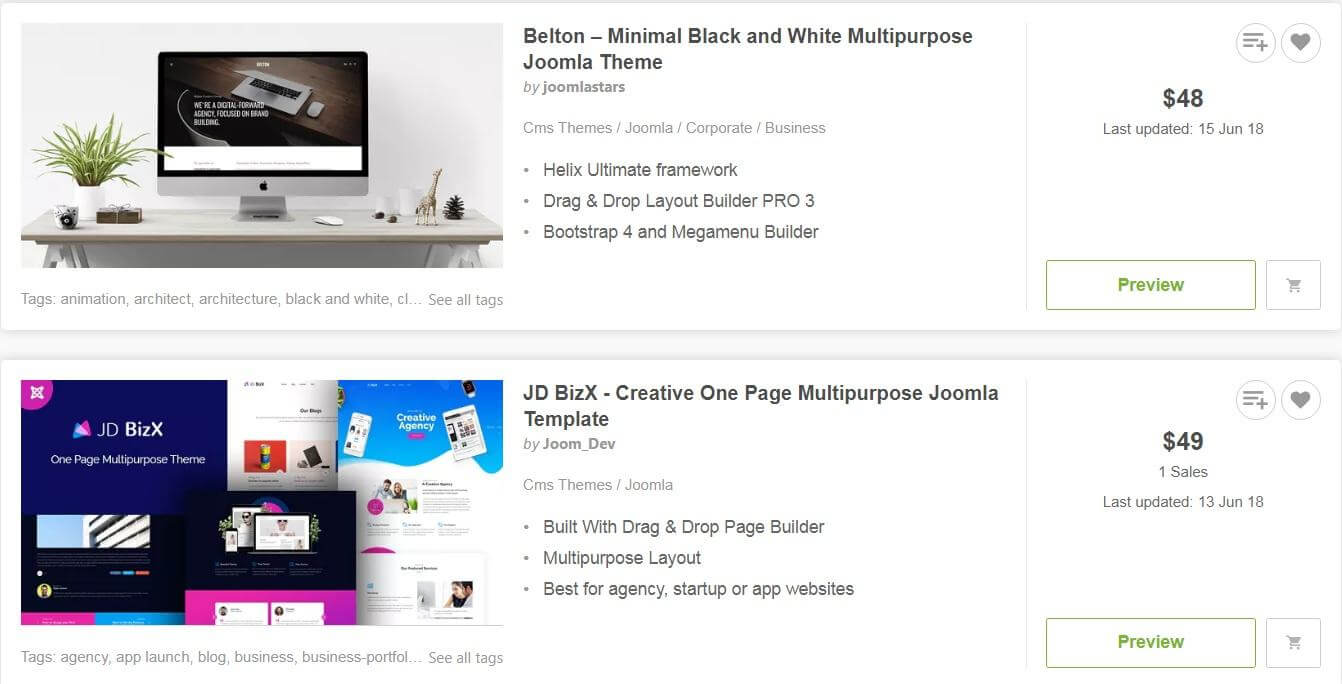 However the con about these templates and themes that these are not as great as WordPress. Hence you may have to struggle a bit to find the perfect theme for your website.
Moreover, there is no support for Joomla templates on the Joomla dashboard. So in order to find a theme, you have to search on the web and then download it. And these can be pretty confusing for the beginners.
Support Options:
Support options are also an important factor for beginners. As a beginner, anyone could mess up thing and to clean those mess, it is essential to have some reliable support options.
WordPress:
Although, when it comes to WordPress, it undoubtedly has a strong community of users. You can seek for help from the official support forums, docs, handbooks, codex and so on. Even there are quite a lot of blogs are available online which helps you to solve your query.
Even apart from these online blogs and forums, you can even get paid support. There are quite a lot of freelancing websites are available online. From where you can hire a WordPress professional and get done with the job.
Apart from the free support options, there are ways to get paid support for WordPress as well. Online platforms like Upwork, Fiverr, and elance where you can hire WordPress professionals from around the world to quickly solve a problem for you at a very reasonable price. Due to the immense popularity of WordPress, finding WordPress developers is easy and affordable for small businesses and individuals.
Joomla:
Just like the WordPress, Joomla has also a great community where you can seek for help. In addition to that Joomla offers a brief documentation which provides some valuable resources. Even there are so many blogs are available that can help you out.
However, finding a professional Joomla developer can be a very difficult task. As Joomla is not that famous as WordPress, hence there is a shortage of developers.
Security:
In the end, lets talk about security. Security is undoubtedly the most important factor when it comes to selecting a CMS for your website. So you better pay a special attention to this:
WordPress:
WordPress is the most popular CMS. Hence hackers out there would obviously target WordPress. However, thankfully WordPress is built on a very secure code, and it responds to threads very quickly. Even it comes with an auto update which installs new security patches from time to time.
In addition to that, you can install security plugins, set up two factor authentication, set up automated backups for your website. So you can always stay on the safer side.
Joomla:
Joomla is also very similar to WordPress when it comes to security. It also responds to security threads very quickly. However, when it comes to updating the CMS, it is entirely up to you. Like there is no such auto update thing.
Also, you can set up automated backups for your Joomla website. As well as there are so many Joomla extensions which offer an excellent security to your website.
Conclusion:
So that was a quick comparison between WordPress and Joomla. In the end, if you ask us which one is the best choice between these two CMS. Then we would say WordPress.
WordPress is not just an easy to use platform. But it also offers quite a lot of features and has a great support community.
Anway, if you have any more questions then do comment below.