Why your business website should use WordPress
Businesses on a digital platform have been growing for more than a decade now so to make it happen use WordPress for your business website today. Online presence has become so vital that people's perception can be affected just by the outlook of your website. The digital presence and the potential for growth is not to be taken lightly and certainly not something to be made for granted.
WordPress is a Content Management System which is primarily an open source. It was launched in '03 and has been extraordinarily successful and probably the fastest growing CMS lately.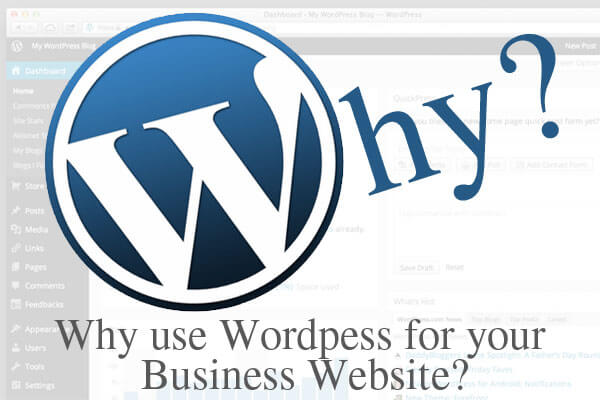 It has also powered big players in the market like CNN and Mashable. Hence, the significance of growth and rapid development through WordPress is not to be taken lightly. Online image and reputation can give a ridiculous amount of popularity, and it can also be the reason for your biggest downfalls depending on what kind of status you have.
WordPress is a CMS where you can start up your business, and it's secure. With WordPress, it is effortless and easy to start your website if you are a small-time business or even a decently growing business or even a well-established organization. WordPress offers you several options to build your website. Regardless of whatever your business nature is (as long as it is legitimate, of course), WordPress has the potential and reputation to give a boost like no other.
Blogging, culinary, arts, enterprises, etc. it can be anything and also social media can boost your website visibility.
What does WordPress offer?
You can either choose WordPress.com to create a free business website if you are a fresh start-up with a limited budget and hoping to save wherever you can.
WordPress.com offers a place for you to create your website even though you have little or no technical expertise in fields such as Hosting, Java, Programming languages like PHP, etc.
WordPress.com does all the technical work for you, and you need only manage your website.
You will have a simple walkthrough which will help you get familiarize with the functioning of WordPress. In time, you will realize that it is really simple to operate and manage and you will become better and better every time.
It also has free themes and plugins which will prove to be convenient for you and you will have fun with the experience.
The basic plans of WordPress.com can be afforded by literally anyone who is looking to have a free website.
It also offers you the certain liberty of customizing your website as per your wishes. Of course, with the paid premium upgrades you will have more control and access when compared to the free plans. Even some themes with an attractive website, you will manage to pull off a few new potential customers.
WordPress also offers WordPress.org which allows you to create several websites as per your wish with no added charges. You will have more perks if you have more technical knowledge about hosting because the key difference between WordPress.com and WordPress.org is that WordPress.org enables you to host your website. With this, you will also have to bear expenses that will incur. The cost of your website will be directly proportional to your potential growth of the business. If you are running a decent webpage, your generated revenue will be easily able to bear the expenses. This way you won't feel any extra burden on yourself.
Why use WordPress for your business Website?
User Friendly
Compatible with all types of media
Affordable
Tools and Plugins
SSL certification
SEO
WordPress is Universal
Scalability
Security
User Friendly
WordPress is easy to use, and there is no advanced courses to be taken to get familiar with its functioning. WordPress is very user friendly, and it doesn't require any advanced technical skill or knowledge to maintain and manage your content. WordPress doesn't require you to possess coding or technical expertise. You need not need to know what JPHP, JavaScript, Python, etc. WordPress walks you through by putting everything out there, and you can do most of the work by just following the instructions. When you're choosing a theme regardless it's a paid or unpaid theme, WordPress ensures consistency and follows through with the same design concept. It doesn't show any defects irrespective of how much content you are willing to add. It will function seamlessly and efficiently. With multi-site tech, you can control all your WordPress websites under the same Control Panel. WordPress allows you access to customize everything. Even your Sidebars and Footers. From category pages, web pages to landing pages, you can customize as per your desires. You need to install a plugin called Custom Sidebar.
Compatible with all types of Media
WordPress is compatible with all types of media. Be it audio, video, image, etc. WordPress also allows you to link any YouTube video with the embedded link.
Affordable
WordPress is free to use, and it's the type of CMS that provides you useful and affordable plugins from a wide variety in which some handy plugins are free of cost. WordPress only requires you to have a good domain name and Host. WordPress is sturdy and provides regular updates.
Security
Since WordPress is open source, you might be hesitant for security purposes because of vulnerability and potential hackers. This is highly unlikely to occur with WordPress' tight security. Websites powered by WordPress worldwide are proof of that. WordPress regularly updates data security tools
Malware and Cyber-crime also some of the major threats. Due to special programs suddenly appearing, websites can crash and even be slowed down significantly. Thus, it was proven difficult to protect yourself from Malware or hacker and you can secure your WordPress more effectively. However, WordPress provides some of the most reliable securities visa-vis Sucuri Security Anti-Virus which will allow you to monitor any suspicious potential malware activity on a daily basis.
Tools and Plugins
WordPress doesn't require any HTML or FTP software to delete/edit content from your website or even download/upload files. Every three-to-four months cycle, WordPress provides an update so that you're up to date with the most modern technology. WordPress' intuitive tools have become more and more adaptable, user friendly and reliable with every update making your job easier when it comes to editing, adding new content, etc. With the drag-and-drop feature, you can upload any file – be it an image, audio, video, etc. Your files will be uploaded seamlessly without any effort. Since it's a familiar debate that plugins prove to be useful but they can also potentially slow down your website, WordPress also allows you to easily enable and disable websites.
SSL Certification
WordPress enables you to easily acquire a Secured Socket Layer (SSL) is a standard certificate for security purposes. SSL even secures banking transactions and offers protection for personal data of users. It is possibly going to become mandatory for all websites to attain an SSL certification for proving legitimacy and legal practices. You can do it with a very simple process by utilizing the Really Simple SSL plugin offered by WordPress.
SEO
WordPress has depicted itself as an SEO friendly CMS since it helps you optimize your website like no other. Since it allows SE bots to easily index your website it has also proven itself to be SE friendly.
Google favors WordPress as it seeks three essential things it seeks in a site are as follows;
Responsiveness
Optimized Content
Easy Navigation
WordPress is also Mobile Optimized which means there won't be any traffic conversion issues.
WordPress is Universal
If you're uncertain about using WordPress, you need to rest easy because it's one of the most trusted Content Management Systems. It is common that you have to start things over the moment you change your developer. Since WordPress is universal, you don't have to start things over from scratch. Any developer can access WordPress. WordPress also has a default standard dashboard. Hence it is Universally acknowledged. Most legitimate websites are up and running back up by WordPress.
Scalability
Scalability is the potential of a network or an organization's growth. WordPress takes into consideration your potential for growth and provides you with the right Content Delivery Network (CDN) like CDN Providers – MaxCDN and CloudFare. Using WordPress gives you the liberty of choice. Whether it's blogging based on content or a multi-site website. WordPress's quality provisions will not be compromised.You can also use plugins to optimize your website performance using our detailed article Optimizing WordPress.
It's not an extremely easy thing to handle an ongoing business or even start-up a business so use WordPress today for easy maintenance.
Things get complicated, and especially start-ups need to be a little more convenient and easy to when it comes to handling.
WordPress enables you to conveniently manage and helps your website grow in many ways you can imagine. It is a great platform to make yourself stand out as it is a worldwide function. Businesses can grow and reach enormous heights. With WordPress' community, you can even build networks, and you will be able to run and manage a successful business.
Ultimately, it depends on our style of execution and your entrepreneurial abilities to manage the business, but WordPress certainly does not fall short when it comes to giving you a proper platform to establish yourself.